2016 clark seminar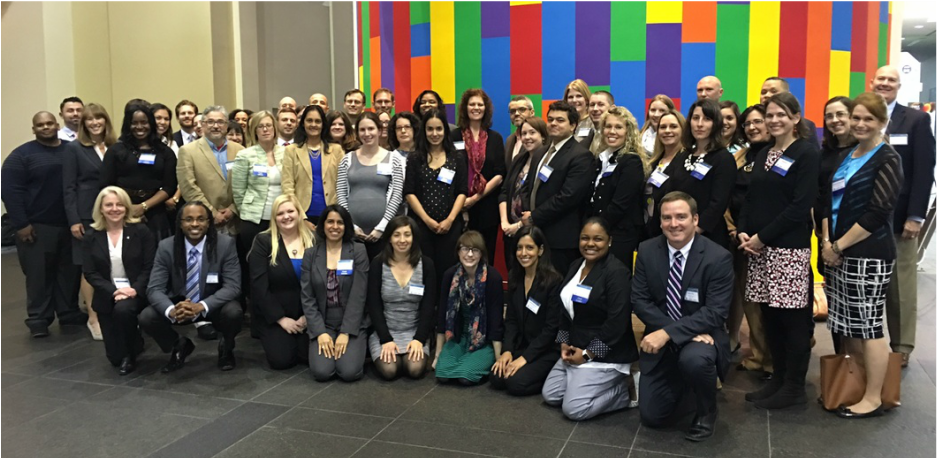 By Bryan
A. VanGronigen
This past April, 42 graduate students and 12 mentor faculty members descended upon the Washington Convention Center in Washington, D.C., to participate in the 37th annual David L. Clark National Graduate Student Research Seminar in Educational Administration. During the two-day seminar, Clark Scholars heard from an array of panelists about life as a faculty member, presented their research during poster sessions, and participated in small-group discussions.
The small-group sessions—the core of the Clark Seminar—organized students by dissertation topic and research methodology and paired a group of seven students with two distinguished faculty members in educational leadership and policy. The faculty mentors, whom were selected by the Clark Seminar Planning Committee, read and commented upon executive summaries of students' work before arriving in Washington, D.C., and during the seminar, asked students to lead a conversation about their dissertations within their small groups. Faculty members then offered targeted feedback and invited other students to comment upon each student's work. Clark Scholars' research presentations ranged from examining institutional agility within local education agencies and the micropolitical analysis of teacher evaluation to Afro-Latinos in educational leadership and school leaders serving Native American communities.
To qualify for one of the seminar's 42 slots, aspiring Clark Scholars were required to submit a brief summary of their dissertation research along with a letter of recommendation from a faculty member. This year, the seminar received over 100 applications, which were carefully evaluated by a committee of faculty members in educational leadership and policy. Mentor faculty members were selected by the Clark Seminar Planning Committee, which consists of one representative from AERA Division A, one representative from AERA Division L, the UCEA executive director, a UCEA graduate assistant, and the UCEA project and event coordinator.
This year's Clark Seminar faculty mentors included Professors Mónica Byrne-Jiménez of Hofstra University; Edward Fierros of Villanova University; David Garcia of Arizona State University; Terrance Green of the University of Texas at Austin; Donald Hackmann of the University of Illinois at Urbana-Champaign; Luis Huerta of Teachers College, Columbia University; Hans Klar of Clemson University; Wayne Lewis of the University of Kentucky; Sarah Nelson Baray of Texas State University; Janelle Scott of the University of California, Berkeley; Penny Tenuto of the University of Idaho; Terah Venzant Chambers of Michigan State University; and Michelle Young of the University of Virginia and UCEA.
The seminar is held each year before the start of the AERA Annual Meeting and is coordinated by AERA Division A, AERA Division L, and UCEA. Named in honor of the late Professor David L. Clark, the seminar seeks to bring together emerging scholars and accomplished faculty members to better hone research projects and prepare the future of the educational leadership and policy professoriate. The call for nominations for the 2017 Clark Seminar—which will take place Wednesday, April 26, and Thursday, April 27, in San Antonio, Texas—will be released in early September 2016.
For more information about the Clark Seminar and how to apply to become a Clark Scholar, visit:
http://www.ucea.org/graduate-student-opportunities/david-clark-seminar/
. Faculty members interested in being considered for one of the 12 mentor faculty slots should email Bryan A. VanGronigen at
bav9wb@virginia.edu
.