2018 Division A Program Planning Committee Report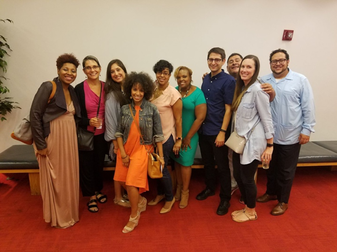 ​By

Rosa L. Rivera-McCutchen, Program Chair

2018 Program Committee:
Micheal Dantley, Division A Vice President
Rosa L. Rivera-McCutchen, Chair
Cristóbal Rodriguez, Co-Chair
Section 1: Leadership
– Sharon Radd & Angela Urick
Section 2: School Organization and Effects – Patrice McClellan
Section 3: School Improvement – Fernando Valle
Section 4: School Contexts and Communities – David DeMatthews
Section 5: Leadership Development – Soribel Genao
Equity, Inclusion & Action Committee – Melissa Martinez, Chair, and Dana Thompson Dorsey, Co-Chair
The 2018 Program Planning Committee included a tremendously talented and energetic group of scholars whose commitment to our Division cannot be overstated! Section Chairs began their work just as the 2017 conference was ending, with our first meeting taking place in San Antonio, TX. Unless you have served in the role, it is difficult to describe the amount of work and dedication required to plan an engaging conference. The committee members tolerated well the frequent and lengthy emails from AERA central (and me), and non-stop deadlines throughout the summer and into early fall. Our planning committee met a second time in September, at Lehman College CUNY, in the Bronx, for a marathon weekend work-session during which time section chairs evaluated proposal reviews and made final decisions about the program.
---
The 2018 Program Committee meeting to evaluate proposal reviews and create the program.
I would be remiss if I did not also acknowledge the hard work of the reviewers whose service to our Division was essential in pulling together a tremendous program! Not only did we have a number of volunteers who answered our initial call in the spring, we also had an awe-inspiring outpouring of support when we asked for additional reviewers in the summer. The response to our call was immediate and overwhelming, and for that we are truly grateful.
Here are some interesting numbers regarding this year's program planning:
261 scholars served on review panels, augmented by an additional 36 grad student reviewers, who conducted around 1,900 reviews. Each paper was reviewed by a minimum of three review panel members.
We received 452 proposals for papers and 38 symposia proposals representing an additional 116 papers for a total of 568
Of the 1,900+ reviews, only 5% were "delinquent" (AERA term). Thanks to all of you for making our work possible!
Approximately 920 Division A members volunteered to serve as a reviewer, chair, or discussant.
While there are a number of noteworthy Division A sessions, here are a few I'd like to highlight:
Dreams and Possibilities for the Future of the Educational Leadership Professoriate: Diversifying and Amplifying the Voices of the Academy (Co-sponsored by Division A and the Leadership for Social Justice SIG)
Fri, April 13, 4:05 to 6:05pm, Millennium Broadway New York Times Square, Sixth Floor, Room 6.01
Narrowing the Space Between Grant Funders and Grant Writers in Educational Leadership (Co-sponsored by Division A and UCEA)
Fri, April 13, 4:05 to 5:35pm, Park Central Hotel New York, Mezzanine Level, Manhattan B Room
How School Leaders Humanize Their Schools and Work for Social Justice: Testimonios From the New York City Trenches
Sun, April 15, 10:35am to 12:05pm, Park Central Hotel New York, Ballroom Level, Forum
Division A Graduate Poster Session
Sun, April 15, 2:45 to 4:15pm, New York Hilton Midtown, Third Floor, Americas Hall 1-2 - Exhibit Hall
Division A Business Meeting
Sun, April 15, 6:30 to 8:30pm, Park Central Hotel New York, Ballroom Level, Forum
University Council for Educational Administration, Division A, Division L, and SAGE Publications Joint Reception
Sun, April 15, 8:30 to 10:30pm, Sheraton New York Times Square, Second Floor, Metropolitan West Room
Advocating for Equity Through Teaching, Research, and Service: Social Justice Scholars Offer Mentorship on How It's Done (Sponsored by the Division A Equity, Inclusion and Action Committee)
Mon, April 16, 10:35am to 12:05pm, Park Central Hotel New York, Mezzanine Level, Manhattan A Room
Looking ahead to 2019, the Division A conference program will be in capable hands, with Dra. Mónica Byrne-Jimenez assuming the role of Vice-President, Cristóbal Rodriguez as Program Chair, and Soribel Genao as co-chair. Other committee members will include:
Section 1 - Leadership: Detra Johnson & Decoteau Irby
Section 2 - School Organization and Effects: Vincent Cho
Section 3 - School Improvement: Erica Fernandez
Section 4 - School Contexts and Communities: Sarah Diem
Section 5 - Leadership Development: Catherine O'Brien
Equity, Inclusion & Action Committee: Dana Thompson Dorsey, Chair & Lolita Tabron, Co-Chair