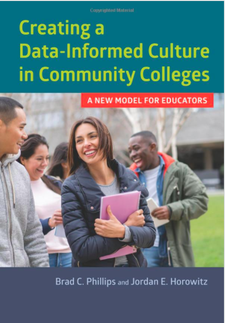 BRAD C. PHILLIPS and JORDAN E. HOROWITZ; Harvard Education Press (2017)
Brad C. Phillips and Jordan E. Horowitz offer a research-based model and actionable approach for using data strategically at community colleges to increase completion rates as well as other metrics linked to student success. They draw from the fields of psychology, neuroscience, and behavioral economics to show how leaders and administrators can build good habits for engaging with data constructively.
At the core of their approach is helping administrators and faculty identify leading indicators that they can impact and monitor before student failure occurs. The book also helps educators make better use of common sources of data, clarify problems to be solved, match research-based interventions to problems, and evaluate results. Three cases studies from Long Beach City College, Southwestern College, and Odessa College further illustrate how this approach was implemented as a part of comprehensive reform efforts.
Based on two decades of experience working with colleges across the country, Creating a Data-Informed Culture in Community Colleges promises to be a valuable contribution to the ongoing conversation about information use in education to improve student outcomes.
See a related blog post by Jordan E. Horowitz at
https://drive.google.com/file/d/1lubRKRbCz4RE_Xb8A0QTYq9zhfFAPaSP/view?usp=sharing