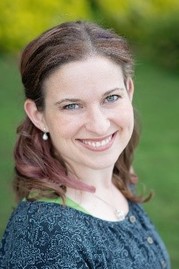 Message from Emma Bullock, Division A Senior Representative

It's an exciting time to be involved in the Division A Graduate community. This year we have been actively involved in many activities providing opportunities for graduate students to engage in AERA. In addition to our fantastic monthly Connect Series Webinars which have included topics such as Homeless and Refuge Student Education, Leadership of Cultural Competency in Schools, and an Introduction to AERA Division A and how to get involved, we are deep into our preparations for this year's Annual Conference in San Antonio. If you have never been to the AERA annual meeting, we invite you to come and join our community. There will be many workshops, panels, presentations, and receptions, and other opportunities for you to network and engage in conversations with experienced faculty and other graduate students. Offerings include the Division A Fireside Chat focusing on STEM Education and School Leadership: Equitably Accessing the Playing Field, the Division A Dialogic Forum for which we are currently reviewing applications, and many other sessions sponsored by the broader Graduate Student Council (GSC). We are also reviewing applications for the Foster-Polite Scholarship and look forward to announcing those recipients in February. Finally, the calls for next year's Division A Graduate Junior Representative and other graduate student committee members will be out shortly. Please apply! The sooner you get involved as a graduate student, the more opportunities there will be for you to expand your network and engage. See you in San Antonio!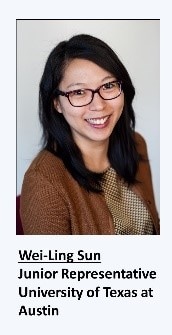 Message from Wei-Ling Sun, Junior Representative

​Greetings! I am so pleased to receive this wonderful opportunity to serve as a 2016-17 junior graduate representative for Division A. In the past semester, other than supporting the senior representative's mission of providing the best experiences to all graduate students in Division A, I was also able to connect with other graduate students from different universities to collaborate on organizing events and sessions in conferences to fit your academic needs. We are all very excited about this coming AERA in San Antonio. Some of you will be able to receive travel funding from Division A; some of you will attend AERA pre-sessions to meet with mentors and to advance your academic skills. We are also going to have a Division A Fireside Chat and receptions with Division L and UCEA members for you to network with professors and students from different universities. Don't forget to sign up for our listserv to receive the most updated activities, events, and opportunities. If you have any concerns, ideas, or questions about the Division A Graduate Student Committee, or you would like to join our team, feel free to contact our senior representative, Emma Bullock, or me. It is truly our honor and privilege to serve you and bring graduate students' voices to Division A.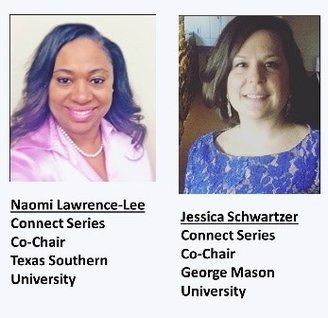 Message from Naomi Lawrence-Lee and Jessica Schwartzer, Connect Series Co-Chairs

We hope you had a chance to view the first four sessions of the AERA Division A Connect Series! The Connect Series is a sequence of virtual, real-time sessions that focus on a unique theme related to policy, organization, and leadership practice and preparation and will feature a different set of panelists each month. Panelists will include a combination of scholar-practitioners, school and community leaders, and policymakers. Graduate students, educators, university faculty, and anyone else interested are encouraged to join these sessions.

Our next Connect Series will focus on Leadership for Social Justice where we will enjoy a lively discussion on What is SJ?; What is the role of school leaders for social justice in today's current political climate?; and How can principal preparation programs prepare school leaders to advocate for marginalized students in their organizations? If you would like to join the conversation, look for our February Connect Series Flyer coming shortly in your email or on Facebook and Twitter. In the meantime, check out past webinars posted on the Graduate Student Corner featuring topics on Leadership for Cultural Competency, Homeless and Refugee Education, and ESSA.

If you have suggestions for future Connect Series sessions or you would like to be a panelist, please contact us! Best of luck in your Spring semester!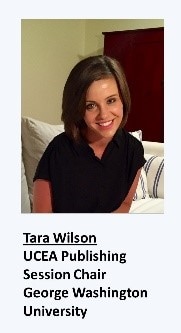 Message from Tara Wilson, UCEA Publishing Session Chair

Hi, everyone! Serving on the Division A Graduate Student Committee for 2016-17 has been a wonderful opportunity, both socially and academically. As the Publishing Session Chair, I planned and facilitated the graduate student breakfast session, Publish and Thrive: Steps to Jumpstart the Publishing Process, with support from Division L. This session took place at the Annual Convention of the University Council for Educational Administration (UCEA) so I was able to travel to Detroit to moderate the panel. This session is held each year for doctoral students to dialogue with a panel of faculty with a rich record in publishing and to learn how to navigate the publish or perish realities of the academy. Since the panel is an annual tradition, I was able to gather a lot of great advice from the former chair, which made the planning process much easier to manage. Working with other like-minded graduate students and meeting several renowned scholars in our field were the highlights of this experience. I strongly recommend this position because I feel that I have benefited tremendously from the opportunity.