The Jackson Scholars Network: Engage. Encircle. Embolden.

by Angel Miles Nash
UCEA Graduate Research Assistant
University of Virginia
---
Engage.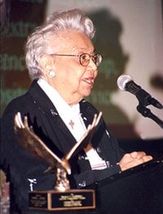 ​"And so, lifting as we climb, onward and upward we go, struggling, and striving, and hoping that the buds and blossoms of our desires will burst into glorious fruition ere long." This oft-quoted directive, penned and recited just shy of 120 years ago by Mary Church Terrell (February 18, 1898), reminds us to engage those around us in the upward movement we are privileged to experience. Since 2003, the UCEA Barbara L. Jackson Scholars Network has endeavored to foster such uplifting engagement in the educational leadership professoriate by providing intentional mentoring to doctoral students of color. The Jackson Scholars Network honors the pioneering legacy of the late Dr. Barbara Loomis Jackson, who led as a Professor, Dean, and UCEA Executive Committee member for many years over her accomplished career in educational leadership preparation.

​Support that aspiring academicians receive during the two-year Jackson Scholars Network mentorship begins when they are nominated by faculty members at their UCEA institutions. All nominating institutions are required to financially support students' attendance to two UCEA Annual Conventions and two AERA Annual Meetings. At all four events, Jackson Scholars are involved in professional mentorship, including scholar identity development, research counsel, and publishing advice.
---
Encircle.


Encircle - The Jackson Scholars Network of graduate students and faculty mentors end their annual recognition celebration with a traditional Ubuntu affirmation: "I am, because we are, and because we are, I am."
A paramount component of the Jackson Scholars Network is the connection that students have with their faculty mentors. Each Jackson Scholar is paired with a faculty volunteer who offers her/his time, attention, and expertise to the network by consistently staying in communication with her/his assigned graduate student mentee. Each pair is encouraged to connect regularly to remain updated on the Jackson Scholar's academic and professional progress.

Being a part of this active network of faculty volunteers also ensures that doctoral students are encircled by and have access to a network of educational leadership scholars who they can rely on for support throughout their dissertation journey. Faculty mentors offer individualized suggestions throughout the two-year commitment. Additionally, mentors participate in panels, workshops, and webinars that provide feedback and guidance on important topics ranging from navigating the job market to establishing robust research agendas.
​
The Jackson Scholars Network is led by a team of dedicated faculty mentors. The leadership of the network includes its two Co-Directors, Dr. Lisa Bass (North Carolina State University) and Dr. Hollie Mackey (The University of Oklahoma), and its Advisory Board: Dr. Mark Gooden, Chair (Teachers College Columbia University), Dr. Gerardo López, Ex Officio, (University of Utah), Dr. Michelle Young, Ex Officio (University Council for Educational Administration and University of Virginia), Dr. Enrique Aleman, Jr. (University of Texas at San Antonio), Dr. Michael Dantley (Miami University), Dr. Malu Gonzales (University of Texas at El Paso), Dr. Michael Gunzenhauser (University of Pittsburgh), Dr. Wayne Lewis (University of Kentucky), Dr. Khaula Murtadha (Indiana University Purdue University at Indianapolis), Dr. Thu Suong Thi Nguyen (Indiana University Purdue University at Indianapolis), Dr. Pamela Tucker (University of Virginia), Dr. Fernando Valle (Texas Tech University), and Dr. Irene Yoon (University of Utah).
​
Embolden.


Embolden - First year (2016-18) and Second year (2017-19) Jackson Scholars join together for an annual group picture.
The Jackson Scholars Network aims to strengthen the pipeline to the educational leadership professoriate by emboldening doctoral students of color. Through professional mentoring and intentional support of burgeoning scholars' research development, the network provides direction that leads to many alumni embarking on careers in the field.

The Jackson Scholars Network has expanded its offerings and support to graduate students and faculty. In addition to providing research presentation experience and feedback to Jackson Scholars at UCEA Annual Conventions, the network sponsors fundraising events open to all convention attendees to engage in community-building experiences. Over the past three years, the Jackson Scholars Network has organized a successful 5K race, a crowd-pleasing flash mob, and an instructive mindfulness session.
A newly launched and sought-after initiative is the Jackson Scholars Alumni Network. In response to recent alumni requests for continued mentoring, the network now arranges mentorship pairings between junior scholars who have recently entered the field and mid-career and senior faculty members who are willing to provide ongoing support.

The success of this 15-year-old UCEA initiative continues to positively impact the professoriate. The most recent cohort of Jackson Scholars included the greatest number of students admitted to the program. The 53 students in the 2017-19 cohort who were accepted to the network joined the 300+ alumni who have completed the two-year program. Below, we feature reflections from two Jackson Scholar Alumni who share what the program has meant to them over the course of their experiences in the academy.


Muhammad Khalifa, University of Minnesota
​
"If there is any experience that caused me to shift from my desire to become a school superintendent into becoming a scholar of educational leadership, it is my experience as a Barbara Jackson Scholar. Though there was a bit of mentoring into an academic career, my mentor, Dr. James Davis, largely did not pressure me toward shift. But the sheer exposure to scholarship and academic circles was enough to lead me down this path. I have had the pleasure to mentor around 10 Barbara Jackson Scholars. This has been rewarding for me as I, too, take my place in this continuum and chain. I continue to receive advice from my many mentors, and I continue to pay it forward to current Barbara Jackson Scholars."
​

Juan Manuel Niño, University of Texas at San Antonio
​
"I began my doctoral journey in the Fall 2009 as a member of cohort '09 at Texas State University. That same year, I attended my first UCEA convention in Anaheim, CA, where I had the opportunity to attend presentations, meet professors and learn about graduate student opportunities. In the years that followed, I attended the Barbara Jackson Scholar sessions as friends were selected to participate. I was selected as a Jackson Scholar in Fall 2011. My experience as a Barbara Jackson Scholar was very unique and transformational. I was fortunate to have a great mentor, Dr. Mariela Rodriguez. Interestingly, I met Dr. Rodriguez when I began my graduate coursework at the University of Texas at Brownsville before she transitioned to the University of Texas at San Antonio. As a Jackson Scholar, I was able to be in an environment where I was surrounded by caring faculty members who are committed to mentor and develop future faculty of color. As my mentor, Dr. Rodriguez provided guidance and support as I continued my studies. More importantly, her mentorship mirrored a friendship. Being a Jackson Scholar also opened other opportunities as I began searching for faculty positions. In the Fall 2013, I became a faculty member at UTSA; however, the mentorship from Dr. Rodriguez did not stop. On the contrary, I was able to gain additional support from another Jackson Scholar mentor, Dr. Encarnación Garza, Jr. Mentorship has been a critical component to the advancement of my career as a faculty member. My participation as a Jackson Scholar reminds me that we don't get where we are alone. I was fortunate to encounter unselfish folks who helped me along the way to become a faculty member and navigate the academic realms. Now as I begin my role as a Jackson mentor, I will continue to advance the work of the network in changing the landscape of academia. I will continue exploring my journey and be mindful of celebrating the contributions of others. As Jackson Scholars, we affirm -
-I am because we are
."
Information regarding becoming a Jackson Scholar or a Jackson Scholar Mentor is available at
http://www.ucea.org/graduate-student-development-home/jackson-scholars-program/
.