Volunteering as Division A members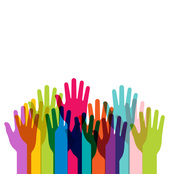 For the last three years, Division A has fielded an annual survey with its members, seeking volunteers for various committees. This year, 255 members (17% of those surveyed) responded to one of two survey requests in January 2015 by volunteering for one or more committees and asking about ways to participate in the future. By asking for volunteers, the division has been able to expand and diversify membership involvement. Below is a summary about volunteering and next steps.


a. Volunteering for awards committees.

AERA's Division A has three annual awards committees. Their purpose and the chairs are listed in Table 1 below. Because of their purpose, committee membership is restricted to 5-10 people each and of sufficient academic rank. For example, graduate students cannot serve on any committee, although several volunteer for outstanding dissertation. Some members volunteer for multiple committees and to enable broad participation, we restrict participation to just one.


---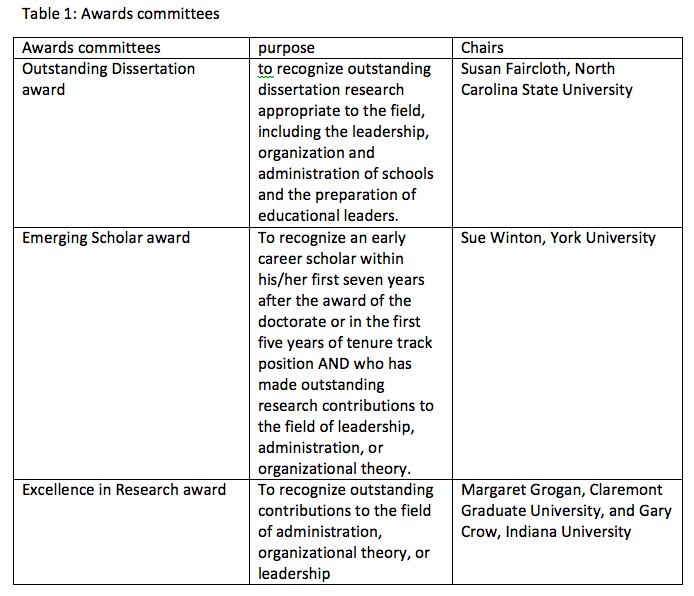 b. Volunteering for standing committees of the division.

The division currently has seven standing committees; 84% of the responding members volunteered for one or more of these committees. The committees' purpose and volunteer response are summarized below in Table 2. Of these committee opportunities, the international and publications committees were of greatest interest to the membership. We are now in the process of connecting the volunteers with committee chairs.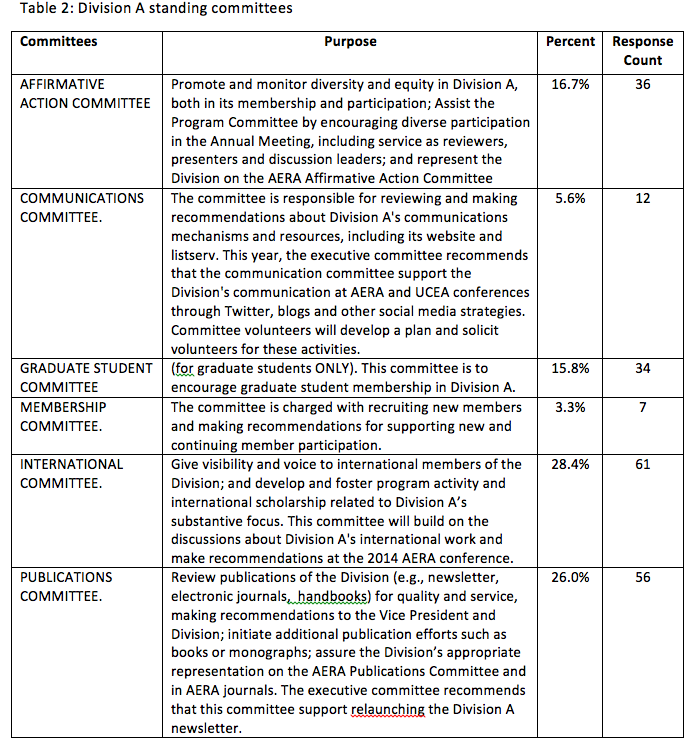 c. Volunteering for work groups.

Division A members were given the opportunity to volunteer for one of three work groups. Over half the responding members selected one of three options, as shown below. In volunteering, they were asked to provide suggestions for the group's work, which is summarized below. Between now and the annual meeting, we will ask one or more volunteers to chair the work group and start on-line discussions for further planning and action to be discussed at the meeting.



Work group #1—Practical applied research.
Members voiced interest in the following areas:
Methods of doing applied research (designed-based research methods, conducting collaborative, community-based activist research, evaluation science, ethnography, and using applied research as an intervention strategy).

Topics for applied research (transformative leadership to turnaround schools; systemic change, special education leadership, qualities of effective leadership preparation and development; charter schools, innovative rural school leadership, culturally proficient school and district leadership practices; mentoring teachers and leaders, peer teacher evaluation; detracking, and school reform).

Organizing for and the study of practical applied research (research in practice EdD, research-practice partnerships to build local capacity, the relationship between peer-reviewed research and professional research; and making research more accessible).



As a division, we ask these work group volunteers (and others who are interested) to help us think about the third area—what might we do to organize for practical applied research in our own research and in the development of new scholars?
Work group #2—Professional development.
This work group was formed in part because AERA offers professional development opportunities as part of its annual meeting and separately solicits proposals for these sessions which are typically half day or full day experiences. Division A is working with Division H to envision and propose professional development experiences that address our two divisions' primarily applied research needs. Division A volunteers for this group suggested the following possible topics that specifically addressed research methods:
action research




needs assessment




building and sustaining authentically collaborative research-practice partnerships




challenges in conducting school-based research



Other worthy topics were raised—such as special education leadership and conducting effective professional development—but are not in keeping with the association's focus on research.
Work group #3—Division A's history.
This group had the smallest number of volunteers, with several innovative ideas:
tracing the history of research among Division A VPs

doing a research content analysis of the division's newsletters




tracing our division's research history and comparing that history to the history of research in the core academic disciplines.



We will be taking up these and other ideas as we prepare for AERA's centennial in 2016.