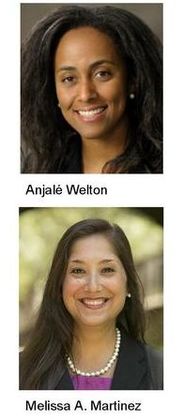 Anjalé Welton, University of Illinois & Melissa A. Martinez, Texas State University
The
Division A Newsletter
editorial team asked Welton and Martinez to reflect on their recent publication in
JRLE
(see title and abstract below) to consider their vision for the educational leadership professoriate. Here's what they shared:
Journal of Research on Leadership Education
; Volume 12, Issue 2, August 2017
Title:
Straddling Cultures, Identities, and Inconsistencies: Voices of Pre-Tenure Faculty of Color in Educational Leadership
Abstract: Drawing on the notions of biculturalism, or double consciousness, and hybridity, this qualitative study explored how 12 pre-tenure faculty of color (FOC) in the field of educational leadership working at universities in the United States negotiated their self-identified cultural identities within their predominantly White departments. Results indicated that participants were more bicultural in nature than they were in self-authoring a new hybrid identity. Nonetheless, bicultural skills equipped FOC with a better sense of how to help their departments critically examine and move beyond White-dominant notions of educational leadership preparation to more culturally responsive approaches.
Authors' DivAVision Response:
We met while pursuing our doctoral degrees at the University of Texas at Austin. Our conversations about the struggles associated with navigating within our higher education institution as females of color began then, and continued as we both began tenure-track positions within the field of educational leadership. Our article stems from the reality of our own struggles and the need to shed light on what other faculty of color, and other minoritized faculty in our field, might go through as they prepare future school leaders while working towards tenure and promotion. The specific examples shared by participants reiterate the need for greater inclusion and culturally relevant practices within our programs, classrooms, and in our interactions with faculty colleagues. At the same time, findings highlight the strengths, abilities, and tenacity of faculty of color; the future of the educational leadership professoriate lies in our ability to draw on all of our strengths to best support our students, communities, and each other.
When we participate in Division A events we have opportunities to commiserate and network with other faculty of color; but, for many of us, when we return to our institutions we are among 'the only' faculty of color in our educational leadership programs and departments. Faculty of color are important to educational leadership programs because we often lead the charge in ensuring that conversations related to racial justice are embedded in the curriculum, and we also serve as a source of support for students of color who are similarly faced with being one of the 'the only' leaders in their schools and/or districts. Division A can foster more discussions via the newsletter and special panels and symposia at the AERA annual meeting all devoted to strategizing how to advance faculty of color in the educational leadership professoriate.