​Message from Emma Bullock, Senior Representative
​
It has been a tremendous honor to serve as the 2016-17 Division A Graduate Senior Representative this year. I have had the wonderful opportunity to work across divisions with other graduate representatives and with the most outstanding committee. Naomi Lawrence-Lee at Texas Southern University and Jessica Schwartzer at George Mason University have elevated our Connect Series to a whole new level and I encourage everyone to check out our archived webinars. Tara Wilson at George Washington University facilitated an exceptionally well-attended Publishing Mentorship Session at UCEA in which members from both Divisions A and L dialogued with a panel of faculty which helped to demystify the publishing process. Jason Ribeiro at the University of Calgary and Alison Wilson at the University of Oklahoma published our most diverse, knowledgeable, consistent, and reliable newsletter on Division A Graduate News to date and communicated our events far and wide utilizing social media. LaTanya Dixon at the University of Mississippi, with our exceptional lead reviewers, Craig DeVoto at the University of Illinois at Chicago, Mark McKinney at the University of New England, and Nakia Gray-Nicolas at New York University, helped review and select our four Foster-Polite Scholarship awardees who each received a $500 stipend to present their research in San Antonio this year. Finally, Amy Gearhart at the University of Missouri-Columbia and our lead reviewers have put together our seminal mentoring session at the annual meeting, the Dialogic Forum, in which 14 students have been paired with exceptional faculty mentors. I have really enjoyed working with Division A and I anticipate many years of collaboration in the future as I accept my first faculty position in the Fall at Sam Houston State University in Huntsville, Texas. Wei-Ling Sun at the University of Texas at Austin will take over as the Senior Representative after our annual meeting and I know she will do a phenomenal job. Thank you for the honor to serve and I will see you all in San Antonio!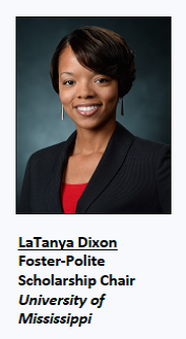 Message from LaTanya Dixon, Foster-Polite Scholarship Chair

As my second term as the Foster-Polite Scholarship Chair has been nearing an end, I recently became more curious about the scholars whom the graduate student award honored. While sitting in my advisor's office last month, I told her my interest in learning more about the scholarship's namesakes. She immediately named Lenoar "Len" Foster and Vernon Polite. Then she referred me to Linda Tillman, who was vice president of AERA Division A when the scholarship was created. Although I spoke with Linda Tillman by phone, I could hear the respect and joy saturating her words as she described Len Foster and Vernon Polite.

Vernon Polite was Dean of the College of Education at Eastern Michigan University at the time of his death in 2010. Len Foster was Interim Dean of the College of Education at Washington State University when he died in 2009. Both men were "influential scholars and willing and influential mentors to graduate students and untenured professors," said Linda Tillman. When she attended AERA for the very first time, Vernon Polite was the first person who said hello to her. She also recalled Vernon Polite being a pioneer in research on educational leadership and also co-authoring with James Earl Davis one of the first books on African American males in education and society. I was intrigued as Tillman described Len Foster as a scholar with whom she co-edited a book on African Americans in the principalship and as someone who was active in AERA Division A and the Association for the Study of Higher Education (ASHE). At that moment in our conversation, I realized that Len Foster was likely a scholar opening the path for P-16 educational leadership long before it was a trending issue. I also knew it was a privilege that I have been able to oversee the administration of this prestigious award.

With this knowledge of the scholars, educators, mentors, and leaders whom the Foster-Polite Scholarship honors, I hope graduate students who have received and will receive the award in the future understand the educational leadership shoulders upon which they and their work stand. May the academy say about us emerging scholars what Linda Tillman recalled a colleague saying about Len Foster and Vernon Polite at the establishment of the Foster-Polite Scholarship: "They gave us so much, but they never asked for anything back."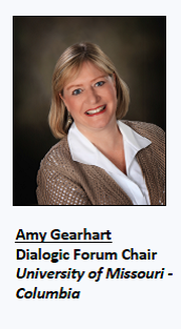 Message from Amy Gearhart, Dialogic Forum Chair

The Dialogic Forum is an opportunity for graduate students to review their developing research with faculty mentors from related fields from throughout the nation. Graduate students submitted applications for the Forum, which were blind reviewed for relevance to the 2017 Annual Meeting Theme and fit with one of Division A's five sections: (a) leadership, (b) school organization and effects, (c) school improvement, (d) school contexts and communities, or (e) leadership development. Thirteen graduate researchers (or pairs) were accepted and they will be matched with faculty who will hear their presentations, provide constructive feedback, and explore how their research relates to emerging trends in the sections of Division A.

The Dialogic Forum is scheduled for Friday, April 28, 8:15-9:45 a.m., and is open to accepted grad students and faculty only. Breakfast will be served and presentations will be made by each researcher prior to time with the faculty mentors.

This is my first AERA meeting and experience with Division A. I dove in by saying "yes!" to a listserv invitation to apply for Division A leadership. I'm new to higher education from a previous career, and I wanted to immerse myself in the professional association and development opportunities that AERA provides. I've enjoyed meeting so many other grad students from around the country and learning more about their research interests. I'm looking forward to being at the Annual Meeting in San Antonio to finally put faces with so many names and find my place in the collegial world of higher education leadership and administration.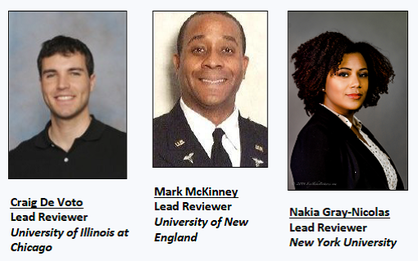 Message from Craig DeVoto, Nakia Gray-Nicolas, and Mark McKinney, Lead Reviewers
​
Hi, everyone! We are excited to serve as Lead Reviewers on the Division A Graduate Student Committee for 2016-17. As Lead Reviewers, we are tasked with supporting the chairs of the Dialogic Forum and the Foster-Polite Scholarship by reviewing applications for the forum and the scholarship. Through a blind review process we are able to critically assess applications in order to highlight exemplary scholarship from our fellow Division A graduate students.